The takeover or transfer of a business is a major step that needs to be very carefully planned. Raiffeisen can offer advice tailored to your situation and provide support throughout the whole process.
The four key angles
When is the best time to hand over the business?
As a general rule, takeovers/transfers take place between the ages of 45 and 60. You should not wait too long.
Who should I hand the business over to?
The buyer or transferee may be a member of your family, a client, a supplier or even a competitor or financial investor. Generally speaking, the closer the transferee is to the transferor, the lower the value but the simpler the process.
In what state should I hand over the business?
The financial and operational soundness of the business has a direct impact on the level of interest, and the price will depend on the overall quality of the company.  
How do I go about handing over the business?
It is vital you are backed by experts, such as a bank, a financial advisor, a legal specialist, a tax specialist and a trust company.  
10 recommendations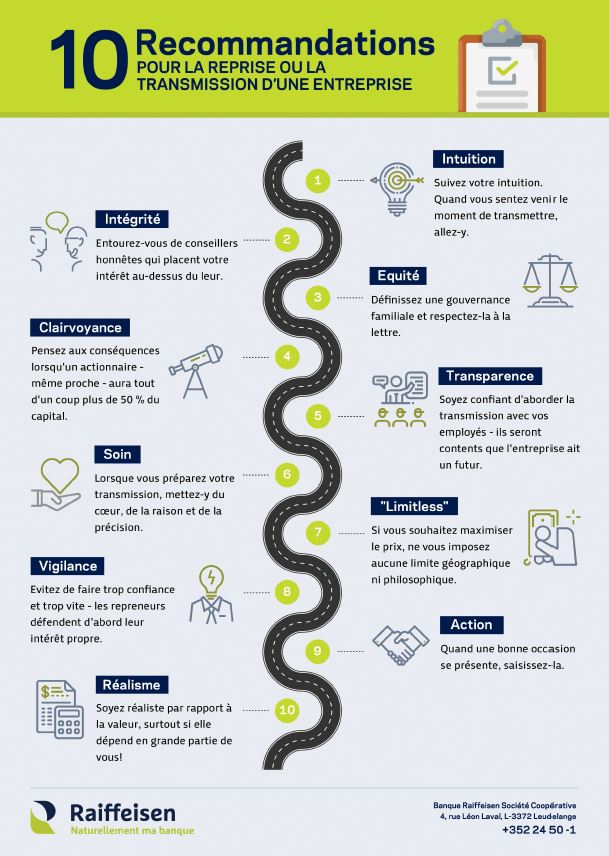 If you want to benefit from our experience in business takeovers and transfers and obtain support for your project, please contact your Raiffeisen advisors:
Marc Schronen (Corporate department)                          Guy Emering (Agency network)
E-mail : marc.schronen@raiffeisen.lu                               E-mail : guy.emering@raiffeisen.lu 
Tel : 2450-2298                                                                    Tel : 2450-2211
Where to find us
Raiffeisen has branches all over Luxembourg so you will be able to find a branch or ATM wherever you are.
Any questions?
Contact a Corporate advisor who will be able to answer your queries and guide you towards the most appropriate solutions.