! Given the current circumstances, we have to make some adjustments for the 50th edition of the Molconcours.
As the local prize ceremonies will not take place this year, the lucky winners will receive their prizes by post. We are sorry to announce that Class prizes have to be cancelled this year but the Public Choice Award on our Facebook page is maintained and will be held over the summer.
MOLCONCOURS - PEOPLE'S CHOICE AWARDS 2020
Go to our Facebook page and vote for your favorite drawing!
Like your favorite drawing and allow the young artists with the most "likes" and "emotions" to win great prizes!
Vote until September 18, 2020 and win 4 tickets for the Parc Merveilleux in Bettembourg (draw on 21.09.2020)!
International art contest
Under the auspices of the National Education Minister Claude Meisch, this annual international contest brings together young artists from seven different countries: Luxembourg, Germany, Austria, Switzerland, France, Italy and Finland.
True to its origins and ambitions, Banque Raiffeisen demonstrates a commitment to building strong, long-lasting relationships with all its clients, and especially children and teenagers, through its annual art competition.
For more information on this, contact our Marketing and Communication department:
Tel.: +352 24 50 23 00
Email: molconcours@raiffeisen.lu
2020 competition - "What makes you happy"
The 50th Raiffeisen international competition will run from 13 January 2020 to 27 March 2020.
This year, artists in cycles 1,2,3 and 4 (aged 4 to 12) can give free rein to their creativity on the theme of happiness.
Happiness can be a moment of joy: receiving a gift, listening to beautiful music, partying. Happiness can be linked to personal experience: daring to do something, helping someone achieve something difficult. Happiness can take the form of bonds: the love of a pet, friends or family.
Happiness is a very personal subject that resonates with everyone. It raises questions to which we may very well respond artistically:
What is happiness for me?
How to find happiness?
Can we keep it?
The prices
School children who take part in Raiffeisen Bank's annual Molconcours competition are in with a chance of winning some superb prizes:
Local prizes
National choice prizes
People's Choice award
Class prices
The national winners from cycles 2, 3 and 4 will be automatically entered in the international competition. The People's Choice award is run on Raiffeisen's Facebook page which spotlights the national winners' drawings. Visitors to the page vote for their favourite picture. There is a very special price for the winner.
From 13 January to 27 March 2020, teachers can enter their class for the class price and take part in the draw to win tickets for Grosbusch Kids or the Red Rock Climbing Center! Fifty classes will be selected at random.
REGISTRATION FOR THE CLASS PRICES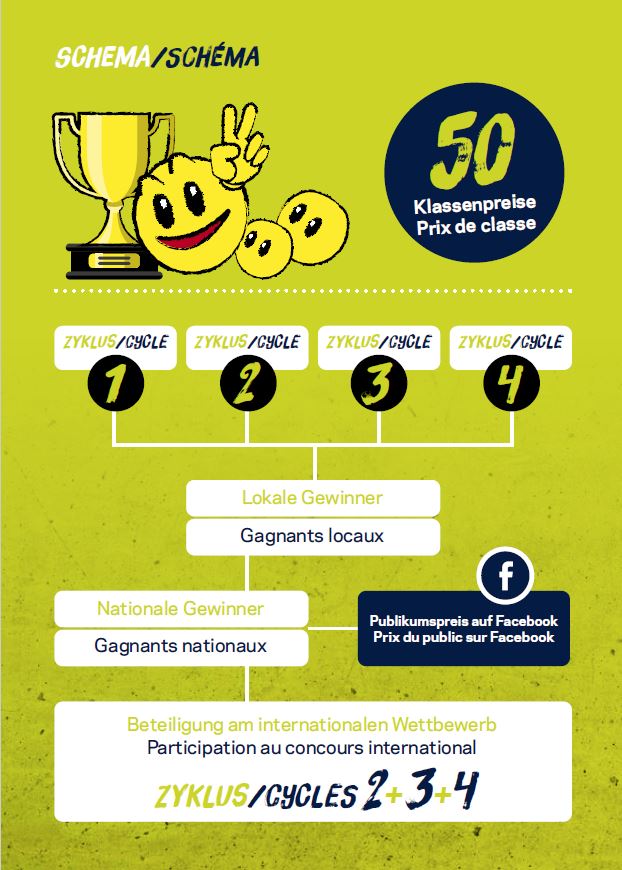 Competition rules
Children aged 4-12 can take part. Drawings for cycle 1 entrants (4-5 year-olds) will be judged at local and national level. Those for the 6-12 age groups will be judged at local, national and international level. The jury is unbiased and will apply the following criteria: overall impression, autonomy, originality, imagination, force of expression.
The jury's decisions are final. Legal action is ruled out. When they send in their artwork, participants confirm that they have produced the work themselves (that they are the artist). They authorise us to publish their work. All artworks will remain the property of Banque Raiffeisen. The winners will be notified in writing. There will be no cash equivalent of the prizes. Paint, draw or create how you want to and with what you want to. Choose black and white or colour, Indian ink or watercolours, coloured pencils, chalk, felt pens, spray paint or charcoal. Make a poster, a cartoon strip, a collage or a montage. Use printing techniques or digital processing, computer graphics or photo-montages (but not a single printed photo) – all of these techniques are permitted.
IMPORTANT: You must not reproduce or copy images. We want your own, original ideas! Use your sense of fair play! Your picture should be in A3 format (42 x 30 cm). Please write your full name, address, telephone number, date of birth and the name of your school in capital letters on the entry form.
Personal data will be processed by Raiffeisen Bank s.c. 4, rue Léon Laval L-3372 Leudelange. For more information on the processing of personal data, please refer to the information notice on the protection of personal data. 
If they have any questions or wish to exercise their rights, participants may contact the Data Protection Office: Chargé de Protection des Données, Banque Raiffeisen s.c. B.P. 111 L-2011 Luxembourg B.P. 111 L-2011 Luxembourg or via e-mail to: charge-de-protection@raiffeisen.lu, without prejudice to their right to lodge a complaint with the National Commission for Data Protection.
Results of the past years