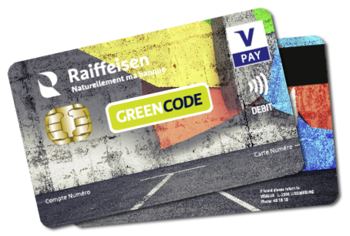 V PAY Green Code
For all your day-to-day purchases
What the Green Code V PAY can do for you
You can use a debit card to withdraw cash from a multitude of automatic teller machines, and to pay for your purchases in an ever-growing number of shops. Raiffeisen can provide you with the Green Code V PAY debit card.
The Green Code V PAY debit card is free-of-charge.
Your Green Code V PAY debit card is free* and comes with a range of advantages.
It can be used to make payments in a whole host of stores in Luxembourg and Europe, and to withdraw money from ATMs.
On presentation of your Green Code V PAY card, you can also enjoy an array of non-banking benefits.
 * subject to acceptance of your application.
V PAY contactless debit card
Adopt a new way to pay! Wave your card over the payment terminal — and that's it!
No changes to your card — only the payment method is new!
Green Code Study debit card
Would you like to apply for a Green Code STUDY V PAY card and enjoy all the Green Code advantages?
Where to find us
Raiffeisen has branches all over Luxembourg so you will be able to find a branch or ATM wherever you are.
Any questions?
We are here to answer your questions and can put you in contact with the right people depending on your requirements.